ICASSP 2013 Harbor Cruise
MV Britannia Special Offer - Thursday evening - May 30
Seating is limited.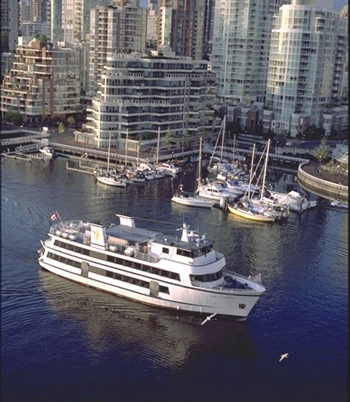 Join us for a unique Vancouver experience - a wonderful reception and cruise on the MV Britannia offering unparalleled panoramic views of the city skyline and many of the area's most famous landmarks. Enjoy a leisurely cruise past the downtown skyline, the cruise ship terminal of Canada Place, the Mountains of the North Shore, Stanley Park, the beautiful False Creek, and more. Take in the sights and sounds of the city. You'll have the best spot in Vancouver to watch the sun slowly disappear into the Pacific Ocean; enjoy the evening under a star-lit sky as the moon reflects off the Pacific.
Just Right Catering has agreed to a customized Capilano Reception menu for ICASSP guests; a cash bar will be available. You will find perimeter seating along the Vessel on both decks, and you are welcome to network, be with your friends inside or go outside to the outer viewing deck for the incredible views.
The Harbour Cruise marina is a 20 minute walk to the west of the Vancouver Convention Center. However, if you prefer not to walk, we will be offering buses that will leave the Vancouver Convention Center at 18:15 for the Harbour Cruise marina. Boarding time on the MV Britannia is 18:30 for a departure time of 19:00. We will return to our buses and have you back to the VCC before 22:15.
Recommended in Where Magazine's Essential Vancouver as one of the top ten "Best Views" in Vancouver.
Student ticket: $40
Non-student ticket: $60
To sign up, please register for the conference or add it to your existing registration.